The European trade association Cosmetics Europe elected today at its 2018 General Assembly a new Executive Team for the 2018-2020 term of office. Mr Loïc Armand (L'OREAL) will continue in his role as President of Cosmetics Europe supported by Mr Charles François Gaudefroy (UNILEVER) and Mr Ronald Van Welie (NCV) as Vice-Presidents and Ms Isabelle Martin (ESTÉE LAUDER) as Treasurer.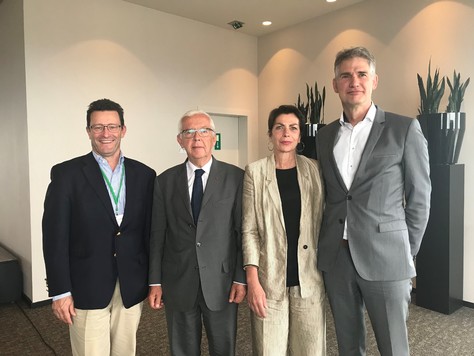 "I would like to thank the Cosmetics Europe General Assembly for the trust bestowed upon me yet again. I am looking forward to working together with the Executive Team and Cosmetics Europe staff through this new term of office, to ensure that the voice of the cosmetics and personal care industry continues to be heard in Europe.
As Cosmetics Europe, our mission remains to partner to ensure a European and indeed global operating environment, conducive to long-term growth and a sustainable future, so that consumers, in Europe and beyond, can have access to safe, innovative and sustainable cosmetics and personal care products. Trade, within the EU and globally, fuels growth and jobs and as a global responsible industry we are committed to advocating to overcome the barriers to free, fair and sustainable trade worldwide".
- said Loïc Armand, President of Cosmetics Europe.
Mr Loïc Armand is currently a Chargé de mission to L'ORÉAL Group President. He began his career in 1980 with the Inspection Générale des Finances, in the French Ministry of Finance, before joining L'Oréal Group in 1984. He has been a Board member of COLIPA/Cosmetics Europe since 2001 and President since 2014.
Cosmetics Europe would like to thank Ms Marival Díez of STANPA for all her efforts, enthusiasm and dedication as a Vice-President during the last eight years.
The 2018 Cosmetics Europe's General Assembly that took place on 14 June 2018 back-to-back with this year's edition of the Cosmetics Europe Annual Conference (CEAC). The conference brought together over 300 industry experts, policy makers and companies to discuss global trends and latest industry developments.
Media questions
Media representatives should address their questions to media@cosmeticseurope.eu.